We're all equal in the sky…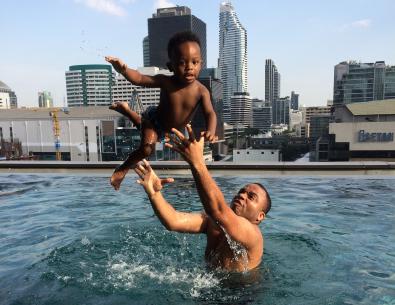 So my most recent flight from Switzerland to London has taken me awhile to recover from. I am a seasoned traveller who isn't easily flustered. I plan my route, prepare my luggage and get going! Saying this being a black female, with mobility issues travelling with a toddler whilst pregnant puts a slightly different spin on the situation and its this I'd like to share.
I'm always trying to do it all, juggling, balancing plates on my head whilst spinning wheels in my palms…I'm the consummate multi tasker. Like most, you just get on without considering the extent of the task you're embarking on. If it's got to get done, you just do. Having a toddler who doesn't always fit nicely into my trello board of actions and more often than not actually seems to purposely sabotage my zen goals, just makes my multi tasking all the more challenging and sometimes fun!
Did I forget to add that I have mobility issues too….?! Yep I have scoliosis and had a major op on my leg so walking long distances carrying luggage isn't possible for me unfortunately.
So I've got a few things making life a little more colourful it seems but I still need to get from A to B. I do everything within my power to prepare for the trip, and even requested for mobility assistance when booking my flight. On a previous journey I had been reprimanded…yes reprimanded for not requesting assistance for both myself and my son, as they sent one person to assist me and despite my booking clearly being for myself and my 2 year old son, they apparently assumed he'd manage to get himself to the gate and just meet me there!
So this time I was ready, I prudently booked assistance for both of us. I arrived at check in with ample time. I reminded them I had requested assistance and was told to wait in the waiting area for assistance to arrive. I waited…..and waited…..and waited…..sorry did I forget to say I have an active two year old?!? And waited….nothing….feeling a little anxious about the flight time, I went back to the desk and asked for an update and reminded them I was still waiting. I was told that the flight had been delayed and they had no idea when the plane would arrive, and that someone would let me know…..a series of ambiguous statements after waiting for almost 2 hours with a toddler….no one informed me of any changes to the flight time and rather some half an hour later, assistance arrived. She took one look at me and abruptly told me she wasn't there to run after my baby!!!!
Now….please enlighten me…. a pregnant passenger with mobility issues travelling with her baby requests for assistance and this is the response?! I told her I had not expected anyone to 'run after my child' and simply needed one person to push me in the wheelchair and another to push his pram. Or be transported in one of those buggy carts. I would have happily had my son on my lap but apparently health and safety regulations do not permit this, so what other option do I have?! She said that isn't going to happen, and I burst into tears.
Maybe it was the hormones, maybe it was the frustration. I feel like I am constantly at war with the world. Fighting to prove that I can do it all, and sometimes I just can't….and when I ask for help, I really need it…..and if it's offered and then taken away with such humiliation I'm lost. That day I was lost. What do I do? I always work on the premise that you just need to learn to deal with things yourself. Lower your expectations of people and get on with what you need to do…I plan for disappointment daily. I plan for having to do it all…. but when a company pretends to offer a service that means that for once I can plan for someone to help me, and at my most vulnerable I realise that once again I'm on my own, I'm reduced to tears. I cried because had this happened two hours before I would have somehow got myself and my son to the gate. I would have walked at a pace I can manage, taken breaks if I needed to and just got on with it. But with no time to get through security and then walk to the gate I felt helpless.
Seeing they had reduced me to tears somehow they managed to get another person to push my son in the pram whilst I sobbed in the wheelchair. But it was too late. Whatever shred of dignity I had when I arrived had been reduced to the size of the wet boarding pass I held in my hand. They left me at the plane entrance, no staff helped me board the flight, a passenger kindly helped me with my hand baggage, whilst the air stewards looked on. It wasn't heavy, but I am unable to even reach the over head lockers!
On arrival at Heathrow it didn't get much better. Again no assistance disembarking with my hand luggage and toddler. I left the plane and mobility assistance was waiting at the entrance. I told the assistant my son had a buggy that was usually brought to the plane entrance. The buggy arrived and she asked me to carry it to the mobility transportation! Carry it??! How on earth can I carry it?! I am asking for assistance and you expect me to carry a large buggy?!! I told her I can't do that as it's too heavy, and if she'd give me a moment I can unfold it and simply push it. To which she rolled her eyes and waited. Again no assistance.
We arrived at the transportation and I put my luggage and my son on the buggy cart, again no assistance. She began to drive and it soon became apparent that all of the lifts were surprisingly out of service! She stopped the cart and said that we had to walk. I saw several other passengers being driven in buggy carts over take us and I wondered what route they were taking and why their assistant had not demanded they walk? Surely we are all going to the exit? I was exhausted by now and asked her if she could ask one of her colleagues if there was another way she could take to avoid us having to walk. She reluctantly did so, and lo and behold there was another route!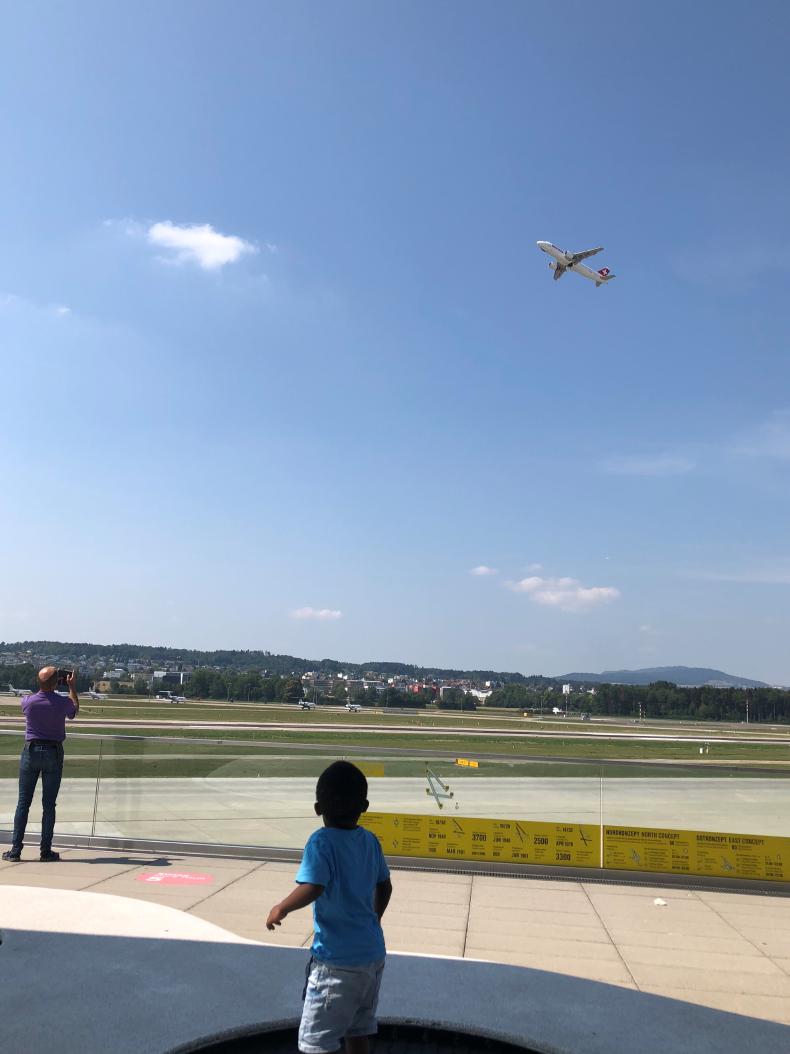 I am dumbfounded as to how @Britishairways and both Zurich and Heathrow airport handled my situation. The guidelines are unclear so expectations are hazy. The training given to staff dealing with passengers with mobility requirements needs to be revised. Unfortunately this is not an isolated incident and I and many have experienced poor customer service because of requesting for mobility assistance. The grey area the airports and airlines seem to be ignoring is how to handle passengers with mobility issues and dependants. How to help pregnant women if needed. Why do airlines have conflicting regulations? Which policy takes precedence? The airline or the airport?! If it's at the discretion of airline staff whether to assist with hand baggage or not, should I simply not travel with hand baggage?! Travelling without hand baggage with a baby is an impossibility by the way…or should I hope that the air steward has woken up on the right side of bed today and isn't offended by my stained hareem pants?! If I can't physically put my hand luggage in the overhead locker and the staff are not obliged to assist me, what happens next?!
One too many bad experiences on British Airways. The consequence of these 'errors', 'oversights' even blissful ignorance, is that it robs people of their dignity. It exposes our differences rather than celebrating our similarities. It creates fear and anxiety where just a small hand of help can change so much. Airlines and service providers need to be consistent in their approach to all that seek mobility assistance, and all that are less able or vulnerable for whatever reason. Consistent in their policy making and create confidence in our expectations. I rarely ask for help, but when I do, I really need it. Discrimination isn't ok, it's real, demeaning, demoralising, and whilst so many commentators on the subject have no real experience I unfortunately live it every day. When will it get better?
People talk about discrimination like it's just a hot topic, or an awkward can of worms they'd rather not consume. Debate is great, but please stop telling me about your best friends, hairdressers, neighbour who's from Eritrea, or that cashier at Tesco's you love with Downs Syndrome. It mocks our daily struggle and reminds me that we have come so far and yet have so much further left to go. Rather listen, be honest and sincere if you lack understanding and desire to break down barriers, and support the fight for injustice. Don't succumb to the faux pax minefield, just let your integrity speak for itself and lets stand together.
My mum always said to treat others how you'd like to be treated. As simple as it sounds, we all need to try a little bit harder to engage this way and treat everyone like humans. It's that simple.